Platform
The Three Critical Elements of Agile Processing
The payments industry is at a tipping point because a confluence of market forces and trends. Increased competition, new technologies, alternative issuers and evolving customer expectations in the new digital world are defining today's market dynamics. To deliver the competitive, differentiated payments products today's consumers demand, financial institutions, brands and card issuers need to be strategic about their product roadmap vision, and they must be able to act on it quickly.
Unfortunately, the legacy processing systems that most issuers rely on are notoriously slow and inflexible, designed for environments decades ago. Instead of building a product roadmap driven by consumer and market requirements, issuers are forced to conform to the constraints of outdated legacy platforms running technology never designed for today's market reality. The end result is that issuers are essentially stuck with the status quo of undifferentiated, "one-size-fits-all" products – a losing formula.
A C-Level Challenge
The present-day digital transformation has greatly compressed the time scale between early and late adopters. For financial institutions, previously the gap could have been as long as a decade, but now that timeframe can be as little as 24 months. Organizations that can't move at this pace struggle to survive, and the C-suite understands that agility and time to market matter. There's clear evidence that technological change is shortening the lifespan of all companies, with the average tenure of companies listed on the S&P 500 declining year over year. Financial institutions simply don't have the luxury of 10-year time horizons for transformation-driven product development cycles.
In short, financial institutions have much less time to deliver the innovative payments products that appeal to today's social and mobile-savvy consumers. What issuers need is innovation at speed– but flexibility and innovation can't compromise reliability, availability, and scale.
Agile Processing is a next-generation payment processing solution that provides this balance and fuses innovation with reliability and scalability, giving issuers the control they need to create and execute their product roadmap and drive more revenue from their payments business.
How Agile Processing Works?
There are three key concepts that are at the heart of Agile Processing: composition, context, and control.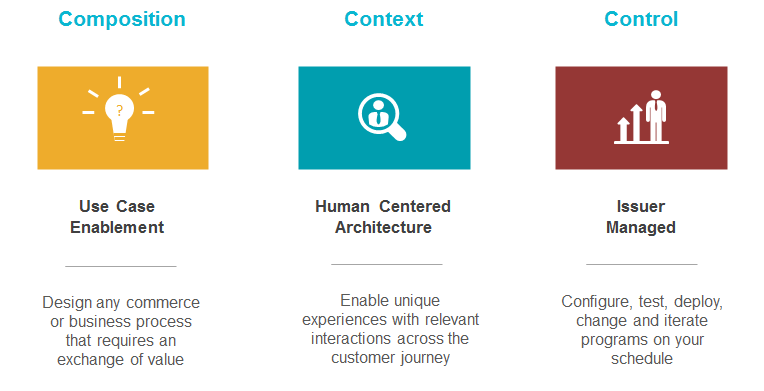 Composition
The composition is the ability to conceive and construct any payment or business process. Just as building blocks can be placed together to assemble virtually any structure, i2c's Agile Processing platform is comprised of a vast library of blocks of payments functionality that can be quickly assembled to rapidly bring new solutions to market. Agile Processing' inherent configurability empowers card issuers to swiftly and cost-effectively create, test, and introduce differentiated card programs that today's customers demand– delivered on a single, global platform with the reliability and scalability that card issuers need– with no coding required.
Context
In the payments realm, context means understanding and acting upon preferences, external events, entitlements, purchase history, and other cardholder information that is relevant at that exact moment. A real-time offer is an example of this as you think about the concept of delivering the right offer to the right person at the right time. Agile Processing leverages individual cardholder attributes to create smarter payment solutions and participate more extensively in commerce activities. Context is vital to cultivating personalized purchasing experiences for consumers, and it can accelerate revenue and enhance loyalty.
Control
Ultimately, Agile Processing is about giving control back to card issuers– so they can configure their portfolio with products that meet their unique business requirements, respond quickly and prudently to make product changes based on market needs, and grow deeper customer relationships with relevant features that engage and delight their customers.
Agile Processing strikes the delicate balance between innovation and reliability and empowers issuers to solve business problems without technology or time constraints.
Learn more about Agile Processing by clicking here.